Morning Sticky Buns. Yummy! The Best. Check out the recipe.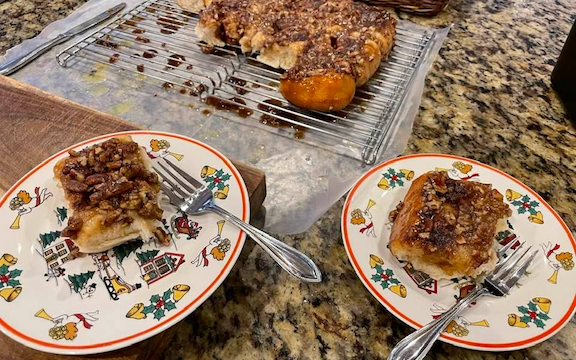 Morning Sticky Buns
For the dough:
1 1/4 cup milk
1 teaspoon vanilla extract
3 Tablespoon butter cut into pieces
3 cup all purpose flour
3 Tablespoon sugar
1 1/4 teaspoon salt
2 teaspoon SAF brand yeast *

For the cinnamon filling:
3/4 cup brown sugar
1 Tablespoon ground cinnamon
6 Tablespoon softened butter

For the caramel:
1/3 cup unsalted butter
1 cup brown sugar
1/4 cup corn syrup
1 cup chopped pecans

Instructions:
To make dough, place all the dough ingredients in mixer. Use the dough hook to mix ingredients, then knead for 8-10 minutes (either with the dough hook or by hand), then allow to rise in warm (~78 degrees) location until doubled in size (about 1 1/5 hours).
For the cinnamon filling, combine sugar and cinnamon in a small bowl. Set aside.

To make the caramel, grease the sides and bottom of 13-9 inch pan. Combine the butter, brown sugar, and corn syrup in a saucepan over low heat stirring constantly. When the butter is melted and the sugar is dissolved, remove from the I heat. Immediately pour into the baking pan. Spread evenly over the bottom with a rubber spatula. Sprinkle the nuts. Set aside.

When the machine beeps at the end of the cycle turn out dough on floured board. Roll out to 12-15 inch rectangle. Add the filling: Leaving a 1 inch border around the edge spread the surface evenly with the 6 T of butter, then sprinkle evenly with the sugar and cinnamon. Roll up jelly roll style starting from the long edge, and pinch the seam. Cut into 12 even portions. Place close together into pan on top of caramel. Cover loosely with plastic wrap and let rise for 45 minutes or until puffy. (The rolls can be refrigerated before this last rise, covered tightly with a double layer of plastic wrap, leaving the rolls to rise slowly and be baked in the morning. Remove the pan from the refrigerator and let rest 20 minutes before baking.)

Preheat oven to 350 degrees.

Bake the buns until the tops are brown, 30-35 minutes. Remove from the oven and let stand no more than 5 minutes on a wire rack. Place the cooling rack on top of the pan, invert the pan on top of the rack. Let cool for 20 minutes and transfer to a serving plate. Serve warm!
*An instant yeast brand other than SAF can be used, but not the kind that comes in individual packets - we need quality yeast for this!